My First Visit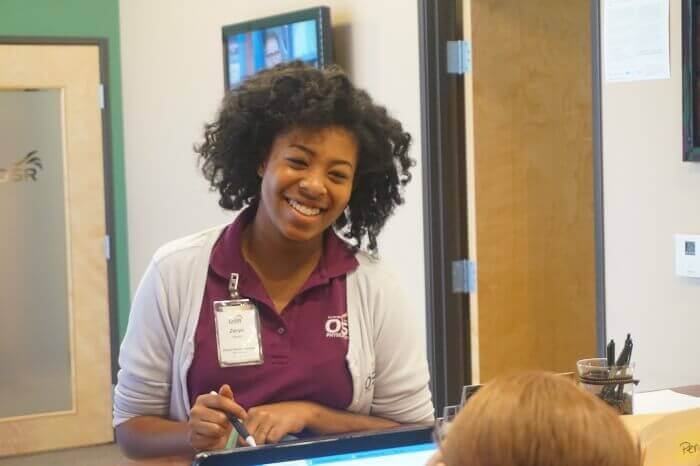 What to Expect as a Patient at OSR Physical Therapy
It is important to us that you know the basics of "What To Expect" as you begin your physical therapy treatment with us here at OSR. Please take a look…
What does OSR stand for, literally?
Our physical therapists specialize in outpatient physical therapy, primarily for Orthopedic and Sports and Rehabilitation concerns, hence the foundation of our name, "OSR". The truth of it is that our physical therapists successfully treat a wide range of pain concerns, not all of which are related to sports or to surgery. Our doctors evaluate and treat pain related to movement, no matter the cause or the area of the body. Because of this, many patients come to see us directly, often prior to seeing a primary care or orthopedic physician.
Clinic Team
Your care is guided by your physical therapist, who relies on a team of Physical Therapist Assistants (PTAs) and PT Technicians (Techs) to supplement your care in the clinic.
Open Clinic Environment
We provide the majority of your treatment in an open clinic space designed to provide you with efficient and effective treatment at each visit. You will see other patients in the same clinic space receiving similar care.
Home Exercises
In addition to the hands-on and therapeutic exercise treatment you receive in the clinic, you will be prescribed an exercise and stretching regimen to complete at home as part of your treatment plan.
Patient Commitment to Success
Success in physical therapy is further enabled by your commitment to keeping scheduled appointments as prescribed by your physical therapist in your treatment plan, diligently following your home exercise program and keeping open communication with your physical therapist about your questions or concerns along the way.
Our Commitment to Patients First
We are committed to providing you with excellent service at every point of contact and measurable progress in each therapy session as we work to deliver a uniquely personalized and truly exceptional patient experience.
What to Bring on Your First Visit
Prescription for physical therapy (if you have one)
Insurance card(s)
Any diagnostic reports including X-ray/MRI reports (if you have them)
Dress comfortably with treatment region accessible
Initial appointment will last approximately 1 hour
Photo ID (your driver's license is the most common form)
New Patient Forms
If you're a new patient with OSR Physical Therapy, welcome!
To save you time and effort, please take a moment to print and fill out the following quick forms.
This will ensure your time with us will be relaxing and focused on your treatment. If you have any questions about the contents of these forms, call us at 623.551.9706. You may fax your forms in to 623.551.9708; however, if you would bring your completed forms to your first visit, it would be appreciated. Thank you for your assistance, and again, welcome to OSR Physical Therapy.
Click here to download our patient forms.