Getting back on your feet after an injury can be long and painful—but with electrical muscle stimulation, you can speed up the process by treating your pain safely and effectively. Read on to learn about the types of electrical muscle stimulation, its benefits, and how OSR Physical Therapy can help.
What Is Electrical Muscle Stimulation (ESTIM)?
Electrical muscle stimulation is a safe and effective therapeutic modality used to improve multiple conditions. Common conditions electrical muscle stimulation can treat include:
Acute injuries
Muscle strains
Ligament sprains
Repetitive stress injuries
Neurological conditions
The electrical muscle stimulation (or sensory nerve stimulation) process uses electrodes that send electrical currents to any part of the body—including the anterior neck, eyes, and damaged skin. This helps strengthen muscles, improve circulation, and decrease pain.
Types of Electrical Muscle Stimulation
There are many different types of electrical muscle stimulation methods. Below are the following types of electrical muscle stimulation and how they work.
Transcutaneous Electrical Neuromuscular Stimulation (TENS)
Transcutaneous electrical neuromuscular stimulation, or TENS, is a common physical therapy modality used to manage short and long-term pain. To do this, your physical therapist will use a TENS unit to target painful areas on your body by sending electrical currents through electrodes. By adjusting the intensity of the electrical currents, your physical therapist can help block pain signals from traveling to your brain.
Neuromuscular Electrical Stimulation (NMES)
Neuromuscular electrical stimulation uses a low-level electrical current to target a single muscle or a group of muscles. In doing so, NMES causes the localized muscle or muscle group to contract. This mode can help improve muscle function and promotes healthy blood flow to the affected area.
Iontophoresis
Iontophoresis uses electrical currents to help push medications into your body. Your physical therapist will use this type of electrical muscle stimulation to deliver medicine to alleviate limiting conditions like scar tissue and tendonitis.
Interferential Current (IFC)
Interferential current is commonly used to relieve back pain. IFC generally uses four crisscrossed electrodes to cause electrical current interference. This allows your physical therapist to use a higher aptitude to help relieve muscle spasms and improve blood flow while maintaining a pain-free electrical muscle stimulation session.
Russian Stimulation
Russian stimulation is a lot like NMES. This electrical muscle stimulation style improves muscle function and promotes healthy blood flow using different, more tolerable currents.
High-Voltage Galvanic Current (HVGC)
High-voltage galvanic current electrical stimulation uses a mix of high and low electrical frequencies to target and penetrate deep tissue. HVGC stimulation helps relieve pain, promote healthy blood flow, and improve joint functions.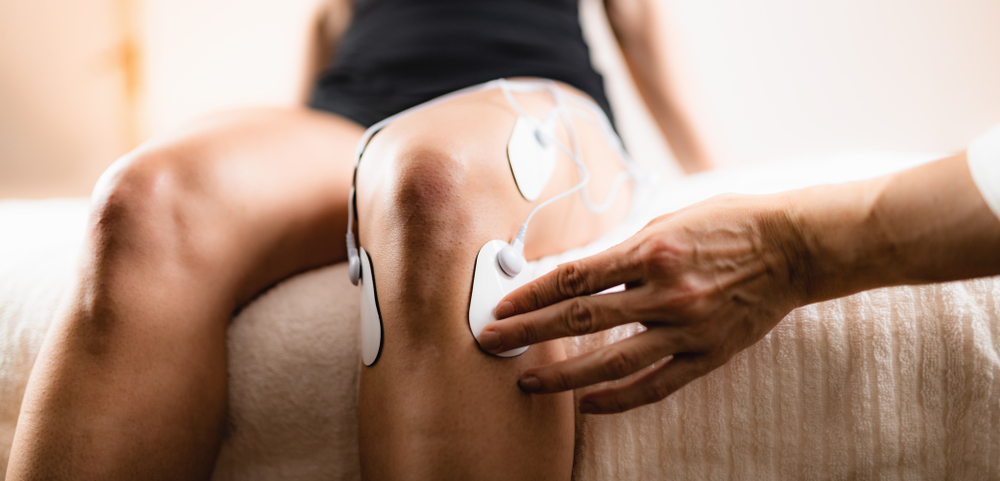 What Does a TENS Unit Do?
A transcutaneous electrical neuromuscular stimulation (TENS) unit is a small machine that delivers electrical currents into the body through its electrodes. These electrodes can be adhered to any body part to help treat pain and improve circulation. Your physical therapist can control the intensity of the electrical currents, tailoring each therapy session to your needs.
What Are the Benefits of a TENS Unit?
There are many benefits of using a TENS unit. A TENS unit is a low-risk, non-invasive treatment option that doesn't require surgery or addictive pain medications. It's easy to use, affordable, safe, and convenient. Since it's small and portable, a TENS unit can be used in the comfort of a patient's home or on the go. According to a recent study, research shows that TENS has short-term efficacy in pain relief for fibromyalgia patients.
Does a TENS Unit Promote Healing?
In addition to providing pain relief, TENS machines may facilitate healing through various means. By adjusting skin temperature and improving blood circulation, they can alleviate inflammation and aid in repairing damage to nerves, tendons, and tissues. Also, they can have a positive impact on one's emotional state, offering support and enhancing mood during pregnancy, labor, and beyond.
Who Should Not Use a Tens Unit?
Even though a TENS unit has been proven to be a safe and effective way to relieve pain for most people, several groups should avoid using it. These people include:
Pregnant women
Those with pacemakers
Those with impaired cognition
Those with deep vein thrombosis
Muscle Pain & Injury Relief at OSR
Are you suffering from muscle pain? Consult a physical therapist at OSR Physical Therapy to determine if electrical muscle stimulation is right for you. Our experienced physical therapists use a TENS machine to provide personalized relief for your painful condition. Get the relief you've been looking for and request an appointment with us today.